"A Taste of St. George Island, The Art of Gulf Coast Cooking", the long awaited collections of Franklin County's most treasured recipes is here!

This Cookbook has been created To Benefit the St. George Island's First Responders Unit of the St. George Island Volunteer Fire Department.
Along with its beautiful beaches and lovely sunsets, St. George Island is also famous for wonderful cookbooks and loyal volunteers. Beginning with the first book published in 1994, this successful fundraising effort along the Gulf Coast has always helped support a much needed community service. This new book is a beautifully presented collection of favorite recipes contributed by residents and homeowners from St. George Island and the surrounding areas of Franklin County. The organizers say, "With this book, our community finds a special way to thank, celebrate and support our First Responders, a unit of our St. George Island Volunteer Fire Department. All proceeds will go to help keep our most dedicated unit ever strong."

This edition features the cut paper assemblages of local artist Beth Appleton. Inspired by island life, Beth helped design the book by selecting her brightest and most colorful works to illustrate chapters and pattern pages.


"I have loved working on this project", Appleton says, "This cookbook is a fantastic way for all of us to help our island first responders. They are not just our neighbors, they are modern day heroes."


The cookbook was released to the public during this year's 50th Annual Florida Seafood Festival held in Apalachicola, Florida. Appleton was on hand to sign books at the Island's First Responder's nonprofit display at the festival. Autographed copies are available for sale and can be customized to order.

Excited about the release of this fourth cookbook, founder and organizer Alice Collins says, "We hope you will not only treat yourself but also use the cookbooks to gift others; they really make fantastic presents and support a great cause. These cookbooks have proved very popular in past years; we expect this book to become a collector's dream."

For more information or to inquire about mail order, please contact: St. George Island Cookbook, P.O. Box 629, Eastpoint, FL 32328, stgeorgeislandcookbook@gmail.com
For more information on the work of Beth Appleton, visit her website at: http://bethappleton.net



"Would make a great gift!"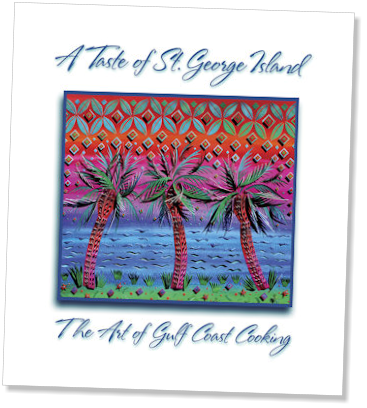 TO ORDER:

Make check payable to: St. George Island Cookbook in the amount of $26.95 plus $5.00 for shipping/handling for a total of $31.95, per cookbook.

Mail order to:
St. George Island Cookbook
P. O. Box 629
Eastpoint, FL. 32328







Available locally at the these fine businesses:

On St. George Island:
Island Emporium
St. George Island Lighthouse Gift Shop
Sometimes It's Hotter
Two Gulls Gift Shop



In Apalachicola:
Downtown Books
Seafood Grill
Stuffed Owl
Tin Shed